Taurus Horoscope 2023: Rich, enjoy a luxurious life
According to the Taurus Horoscope 2023, money is pouring in continuously, without obstacles or too much trouble with the protection of Jupiter.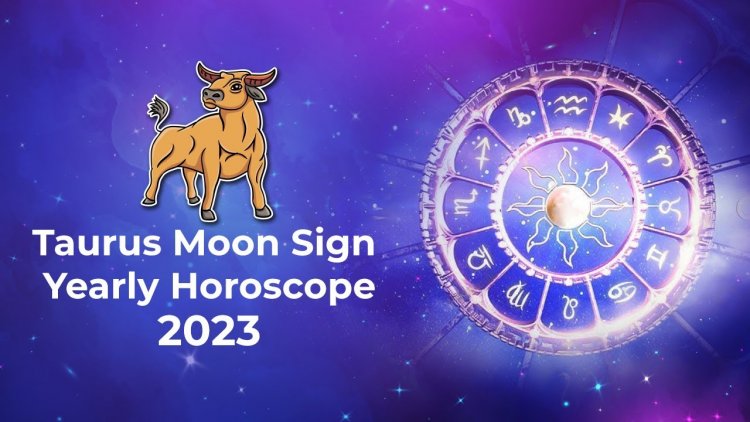 1. Overview of Taurus horoscope in 2023
This year shows that Taurus will spend more time thinking about the future and less focused on their present life. Overall, this new year will be filled with new hopes and happiness.

You will have to face some difficulties before you want to enjoy the fun. Therefore, prepare yourself to overcome difficulties and get the best possible results soon this year.

Right from the beginning of 2023, you feel very energetic, making it easy for you to get your work done. A steady career growth, good quality work can do wonders for your reputation. Your communication skills can also be useful, playing an important role in the workplace.

Your financial situation can also be difficult from time to time. In any situation, you need to stay optimistic, it will benefit yourself. You will get very worthwhile results.

The more effort you put in in life, the more results you'll get for what you put in.

The new year can see, you will enjoy a stable love life but be careful in your communication and actions, especially with your loved ones.

According to the 12 Zodiac Horoscope 2023 , the health of Taurus will be very good this year. You can travel, but for the sake of something important, for now, prioritize safety first.

To improve your health aspect you can learn to meditate as it can help control your emotions and also improve your concentration at work. There may be good news of birth in the Taurus family in this year 2023.
Overview of the Taurus Horoscope 2023

Aspects of 2023
Evaluate
Highlights
Work, study

★★★★

There is a change in work or business expansion and looking for new partners.
Money, financial management

★★★★ ★

Many good omens for the financial situation in 2023. Can buy assets of great value such as land, houses, vehicles, expensive jewelry...
Love, love

★★★★

New beginnings are full of challenges, but later on, the more harmonious and sublimated.
Health

★★★ ★★

Health is quite good, there are almost no problems to complain or worry about.
2. Details of Taurus horoscope in 2023 in all aspects
2.1 About work - Studying in 2023
Taurus Horoscope 2023, you will expand your business activities and find new partners. This is also the best year for those of Taurus to change careers or apply for a job change or ask for a promotion.
Fortunately, your superiors recognize your efforts and hard work, they will consider this and reward you. Not only that, this is the time when you build a great relationship with your co-workers.

Over the next year, you'll get amazing benefits, but there are a few things you need to keep in mind. At the beginning of the year, you will face difficulties of your own making.

At first, it will be difficult for you to find a job to adapt to the working environment. In the first month of the year, big and small issues will not change in your career.

In February, Taurus does not want to work and will always be in a state of uncertainty about any matter. Arguments happen, be it a fight with your boss or your poor performance.

If you are looking for a job or want to change jobs, the beginning of the year will not be favorable for you.

Things will start to get better in the second half of the year. Therefore, you should wait and pause everything related to your career at the beginning of the year.
2.2 About the financial situation - Money in 2023
The beginning of the year bodes well for your financial situation. Thanks to Saturn's influence, you can buy assets such as land, houses, jewelry and vehicles. Most Taurus people will prefer to buy land or house with their financial ability.

You can also spend on some auspicious work for any member of your family.

It is advisable to invest in property because your financial situation is stable. However, don't make impulsive decisions that will cost you in the end.
Since the planets of this year are in line with you financially, this is the best time to invest in a risky project where you are sure to reap great returns. Spend your money wisely and make sure you clear your debts.
With the influence of Jupiter, the lord of wealth and money, promises you a lot of money, money pouring in continuously, life without obstacles or troubles. Money comes in quite a lot but you tend to spend it on your material pleasures.
The financial side of Taurus people will be positive in the new year. After April, the positions of the planets Venus and Jupiter will also be favorable for you from a financial perspective, and you are likely to earn more from any of your assets. Those who work related to creativity can make a lot of profit.

The period between 2023 will be great for long-term investments and implementing your financial plans. In mid-September, you can successfully take your financial situation to the next level with important plans and a new mindset for buying real estate.

In the months of September and October of 2023, you should reduce your spending because your money can be spent on luxury items, which is extremely wasteful.

Overall, the year 2023 could bring economic prosperity for those born under the sign of Taurus. A new source of income can help you fulfill the rest of your wishes and this year you will probably spend money on expensive purchases.
This year you can get many opportunities to buy property. Expenses may increase when doing social commitments or some good works, over time you will be able to see your luck and wealth increase significantly.
2.3 About love in 2023
This year, the Sun and Venus are in a favorable position for marriage. This year will be the happiest time in the married life of Taurus
zodiac sign .
Although you will make the most of your time with your lover, this whole new year will be very good for couples.
However, starting the new year with lots of challenges for Taurus couples who are married or in serious love. There is even a time when the two of you have to be apart, but you will work out your problems. The Taurus zodiac horoscope 2023 reveals the commitment period that will take place at the end of the year.
To make sure your marriage or relationship gets better, you need to put your pride aside. It doesn't help if you think you're better than that person. Lower your ego and everything will work out for the better.

If Taurus is looking for someone you can marry, this will be the year to find the perfect match. Also, if you are going through a bad marriage, mid-year will be appropriate for you to take the right steps to change the situation. Because during this time all the problems of your married life will be solved.

Taurus horoscope 2023 reveals that if you enjoy the first 6 months of the year happily then the rest of the year will see some changes.

You may face emotional stress in your married life. At this time you have to control your words, otherwise, during this time you can use hurtful words, which will increase disputes.

But at this point, understanding your responsibilities to both of you very well, you can also make some decisions together, which will work well for your child.

According to the 2023 horoscope, the months of April, August, September and November are especially good in terms of children, the period from March to the first week of April will not be favorable for having children because of distance or circumstances. allow.
2.4 About the health situation in 2023
The Taurus horoscope 2023 suggests that overall health will be very good this year. You will have nothing to complain about, unless you have more bad habits that affect your health.

Stick to a healthy diet, drink plenty of water, get enough sleep, and exercise regularly to ensure that you stay in great shape.

The health forecast of the Horoscope 2023 suggests that you should be well prepared to deal with minor illnesses that may recur.
If you have not had any health problems at the beginning of the year, then from the middle of the year, you will easily get sick, have accidents, and affect your health for a long time in your life. Taurus may suffer from liver damage or a lung infection.

But all of these can be avoided and properly addressed if you take care of your health with discipline in the coming year.
It's good to stay away from sweets if you want to keep your heart healthy and, if possible, keep your cholesterol levels in check. At the end of the year, people with diabetes should be careful because at this time you often have to participate in many lavish parties.

You have to pay special attention to your diet, if you eat out of control, then you may have trouble with obesity.

Right from the beginning of the year, practice Yoga, exercise, eat healthy and give up bad habits like smoking or drinking. All of these will help and bring you long-term benefits.
3. Taurus Horoscope Monthly Forecast 2023
Below, the Good Days Calendar offers astrological predictions for the entire 12 months in 2023 for Taurus. Hopefully this will be a guideline to help you take control of your life.
Taurus January 2023 Horoscope Forecast: Luck will come into your life and most other aspects will also flourish.
Taurus February 2023 Horoscope Forecast: If you are a boss, always be honest with your employees in everything you do. Do good things for yourself and stop comparing your life with others.
Taurus Horoscope March 2023: It is important to take good care of relationships with people. Don't let your emotions overwhelm you so you're easily humiliated.
Taurus Horoscope April 2023: Money is hard to come by this month, but you will find a way to maintain a stable life for yourself and your loved ones.
Taurus May 2023 Horoscope Forecast: Your career will face some challenges, but you will still stand because you are optimistic about the future.
Taurus horoscope forecast for June 2023: Beware of unwanted spending. Only spend money on practical needs and make sure you spend within your budget.
Taurus July 2023 Horoscope Forecast: Love will thrive in your life this month. All arguments that you are having with your lover or spouse will end.
Taurus August 2023 Horoscope: Be open to the idea of ​​making changes in your life. Do not stay in the same position for a long time. In order for your life to grow, you need to change.
Taurus horoscope forecast for September 2023: Good health will be the driving force for you this month. With good health, you can do anything useful with your life.
Taurus October 2023 Horoscope Forecast: Don't give up on your loved ones just because you don't know what to do to support them. Be with them and listen and don't give advice right now.
Taurus Horoscope Forecast November 2023: This is the best month to let go of people and things that are negatively affecting your life.
Taurus December 2023 Horoscope Forecast: Your business will thrive, and you will make new connections with people who will help you grow.