Aquarius horoscope 2023: Not much income, avoid speculation, lend money
Aquarius
horoscope 2023 advises you to be persistent with your money plans, prioritizing small accumulations, do not fantasize about some quick life changing opportunity.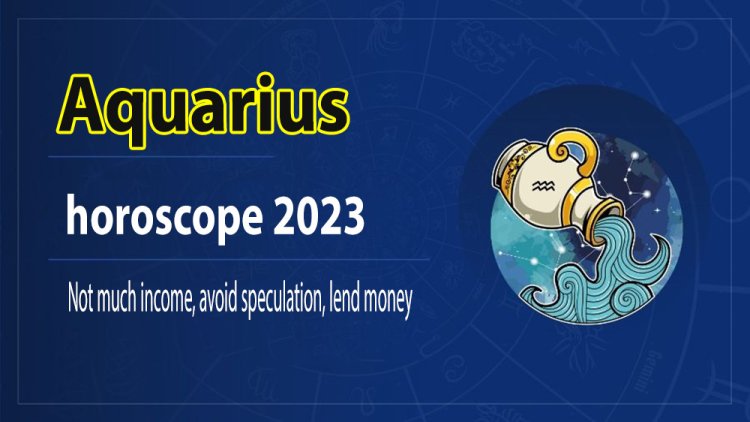 1. Aquarius horoscope overview in 2023
Aquarius horoscope 2023 shows that people of the Aquarius
zodiac sign
have many new opportunities, promising to bring you a bright future. This year will be filled with hope, optimism, commitment, determination and positivity. You must set realistic goals that you can achieve.
This year you should keep your emotions in balance. You need to be careful and don't get angry about anything.
Promise you will have great experiences that will influence the decisions and direction of your life from now on. There are always challenges, but you have the necessary conditions to solve them.
Aquarius will soon complete the goals set out in previous years and achieve the desired results.
Enjoy happiness because you have all it takes to improve every aspect of your life. Finally, what you expected has come true.
In the new year, you will have to learn how to interact with people. Even though you live differently, you also need to find common ground to get along with them.

Don't live too closed you will feel alone. It's best to allow other people into your life. From there you can learn new skills and expand your knowledge.
Find inspiration and motivation from the people around you. It's never too late to start making your dreams come true.
Find ways to get rid of people and things that no longer serve a purpose in your life. Surround yourself with people and things that encourage you to be better.
Overview of Aquarius Horoscope 2023
Aspects of 2023
Evaluate
Highlights
Work, study

★★★★

Created many favorable conditions for development. Use the power of your team.
Money, financial management

★★★★ ★

Stable income helps you enough money to realize your plans.
Love, love

★★★★ ★

Relationships are very good, couples decide for important next steps such as getting married and having children.
Health

★★★ ★

Health only has a few problems related to mental health, the rest is quite stable.
2. Aquarius horoscope details in 2023 in all aspects
2.1 About work situation - Studying in 2023
This year shows that Aquarius needs to work harder than in previous years. You should focus on honing your skills and improving your abilities. Then you have more opportunities to shine.

If you are thinking of changing careers, 2023 is not the best year to do so. Take your time and evaluate your choices. Stick to what you are doing now. When the time is right, you can make the change you want.

This year promises to be successful in your business. Some important decisions will lead to a new direction, which, if right, creates promising opportunities.

Aquarius should note that the beginning of the year can bring unfavorable transactions for business owners.

The career of the office worker will progress this year. Everything will follow an upward trajectory. You should be proud of yourself, your superiors often praise you. It is likely that you will get a raise, promotion, or move to a better place.

The beginning of the year can also be challenging for those who are already working. You will need to work hard, not argue. Be disciplined in the workplace.

The beginning of the year can be a good time to strategize for yourself and your business, in the months that follow your patience may be tested to handle situations. Venus is moving to bless you and it will most likely lead you to a breakthrough deal.
Around May , suitable to expand your business, looking for new ideas.
You need focus and patience during the month of August and must take prudent steps in regards to business.
The end of the year can organize meetings and parties related to business. Venus seems to be assisting you in achieving your goals. Jupiter also appears to indicate plans are preparing for big things.
Meanwhile, around October , overseas expansions work in your favor due to the combined effects of Mars and Venus.
At the end of the year, any major strides towards expansion should be avoided. Your patience can pay off and lead to high value deals with customers.

2.2 Financial situation - Money in 2023
According to the Horoscope of the 12 zodiac signs in 2023 , the financial situation of Aquarius is guaranteed to be stable to help you have enough money to realize your plans. Even in difficult times, you still have the courage to maintain a good financial balance.

The period when Aquarius has the most sources of income is the beginning of the year. Many favorable conditions will bring about positive changes, so that Aquarius can get rid of all previous money troubles.

Especially if your money is stuck somewhere, it will be easy for you to collect it during this time. However, you should be careful not to spend money on unnecessary things. Impulsive shopping is something you shouldn't do right now.

If you can't handle your finances on your own, use the services of an advisor. Experts in this field will help you more.
The fortune is in good fortune, Jupiter affects so the income is quite good in May . However, this is not the time to invest recklessly.
Some of the expenses are for home improvements, marriage and having children in the family.
You should have a reserve fund to cover medical expenses that may arise at any time. Don't be too greedy, live frugally and save some for tough times. Your cash flow will also grow steadily over time.
Mid-year forecast money pouring in from many sources will surprise you.
The pursuit of creativity will also bring you money. Some Aquarius are lucky to inherit this year, but receiving the property is hindered by legal cases.

At the end of the year, Aquarius is full of money, however, you should not engage in any speculative transactions or lend money lest you easily lose money. Meanwhile, some Aquarius find their net worth gradually decreasing during this period, if proper budgeting is not done at the beginning of the year.
2.3 About love in 2023
According to the horoscope 2023, Aquarius is greatly supported by her lover and spouse in other aspects of life, which will help the relationship of both of them become better.

The influence of Venus will allow Aquarius to enjoy healthy relationships and happy marriages. Relationships are very good, couples decide for important next steps such as getting married and having children.

You will need to make every effort to understand what your loved one is trying to hide. This way, you will be able to make your relationship sweet.
- For single people :
If you have been heartbroken, hurt, and dared not to love anything before, this year is the year you move on and start a new relationship.
Aquarius 2023 horoscope reveals that you need to stop feeling sorry for the things that happened in the past, open your heart and start dating. You never know there are people who always appreciate and appreciate you as you are, they don't expect much from you in return.
- For those who are married :
At the beginning of the year, the two had many problems. If any dispute is going on, both of you take the time to resolve it.
You will feel constant tension between husband and wife. You will find yourself surrounded by many types of mental anxiety.
During the middle of the year, the two of you may have a settlement. Love and romance will bloom again between the two, at this time can plan a trip together. This will increase love and trust.
At the end of the year, everything seems to be going well. Aquarius is more comfortable in expressing feelings to his partner. Everything becomes easy because there is effective communication with understanding.
2.4 About the health situation in 2023
Aquarius' health is generally stable this year. You may have some mental problems at the beginning of the year. As a result, your stress will increase.

Due to the movement of the planets, you may face many external health problems. Influenced by Saturn, Aquarius has a chronic illness, so be very careful because it can worsen during the year. Make sure you don't forget the scheduled visits your doctor has told you to do.

In addition, take medicine scientifically and follow the diet strictly. Find ways to improve your lifestyle in a positive way. This way, you will ease your symptoms and improve your immune system.
Don't let worries and worries affect your nerves. Don't put too much pressure on your life, be nice to everyone who is happy and always optimistic. Routine medical interventions and prevention methods will ensure your health.
When Saturn moves in March , Aquarius' mental health will improve.
Jupiter's influence after May also ensures a happy life. Practice a simple and frugal life. If you are passionate about food, money, bad habits... will greatly affect your health this year.
Make sure you stay physically active throughout the year. When the immune system is weakened, get medical attention right away, don't be subjective.

You are likely to suffer from digestive and neurological problems during the year, however there won't be any major impact on your life. Outer planets can affect your health this year. But then Mars will give you the energy and strength to overcome those problems.

Watch out for accidents when traveling because risks are always lurking in 2023 when you are negligent.
3. Aquarius horoscope monthly forecast for 2023
Below, the Good Days Calendar offers astrological predictions for the entire 12 months in 2023 for Gemini. Hopefully this will be a guideline to help you take control of your life.
Aquarius Horoscope Forecast January 2023 : The year will start with a lot of challenges. However, in the end you will get over them easily.
Aquarius Horoscope February Forecast 2023: The confidence you possess will allow you to do miracles in life.
Aquarius horoscope March 2023: Be confident in your abilities and use them to improve yourself and your life.
Aquarius horoscope forecast for April 2023: Your loved ones will support you mentally, they are happy with what you achieve.
Aquarius Horoscope May 2023: Follow your heart and consider decisions and choices before you make them.
Aquarius Horoscope Forecast for June 2023: This month will be filled with positive results. Let's organize an anniversary party with important milestones in your life with your loved ones.
Aquarius Horoscope July Forecast 2023: You need to trust the process and let things happen naturally.
Aquarius Horoscope August Forecast 2023: Be proud of yourself because you have overcome all barriers in life that are holding you back.
Aquarius Horoscope september Forecast 2023: Be grateful for the blessings in your life and share them with the less fortunate in society.
Aquarius horoscope October 2023: You should find ways to reduce unexpected expenses that put a strain on your finances.
Aquarius Horoscope November 2023: Your career will advance because of your hard work and determination.
Aquarius Horoscope December Forecast 2023: As the year draws to a close, you need to prepare yourself for changes due to the influence of Mercury retrograde in 2023.