Gemini Horoscope 2023: Abundant income, but also many expenses
Gemini horoscope 2023 indicates that this year you are very successful in career aspect, business is also quite favorable, however, do not neglect the love aspect because of being absorbed in work. my feelings.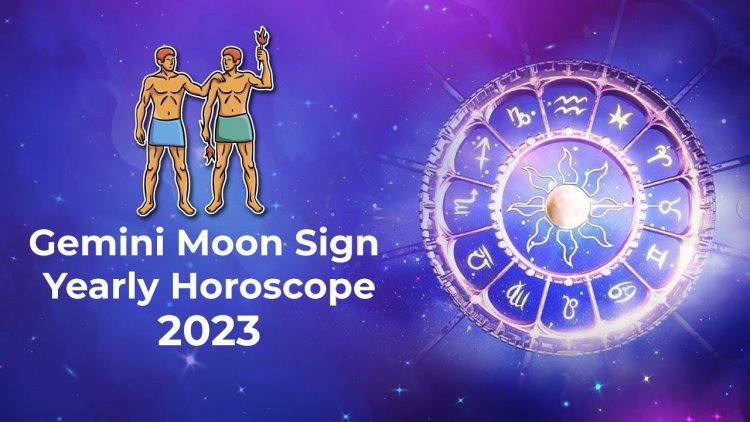 1. Overview of Gemini horoscope in 2023
Gemini horoscope 2023 shows your great growth in life with great abilities that have had a chance to come into play. As a result, you will enjoy the joys in life to the fullest.

This year Gemini zodiac sign can also celebrate the achievements themselves have achieved after years of hard work. However, do not sell cheap or dismiss yourself just for trivial material things.

You will learn something new about your life by exploring everything in your power. With the changes taking place, you should embrace all the good opportunities that are available, don't let them go easily.

You control all aspects of your life and help all aspects such as work, money, health, ... have positive changes. There are many good signs that are backing you up, supporting you moving forward.

This year you will have to make decisions that will help you excel, so if an idea doesn't work, throw it away and find something else that works for you. 2023 is a year of prosperity and abundance; Therefore, make good use of the opportunities that come knocking at your door.
Promise this year Gemini will achieve success in your business, finance and career. However, you should not be subjective, always show caution, should be careful in some things.
Gemini's 2023 horoscope prediction reveals that you should nurture your personal relationships as well as keep the peace in the workplace. Always face every challenge with a positive and optimistic attitude because you will always be able to overcome it. By the end of the year, everything will be more perfect than ever.
Overview of the Gemini Horoscope 2023
Aspects of 2023
Evaluate
Highlights
Work, study

★★★★ ★

There are many favorable conditions, you are the one who brings bold and breakthrough ideas.
Money, financial management

★★★★ ★

The income is abundant, the source of income is not less, but the expenses are increasing. Should learn how to save to ensure safety for the future.
Love, love

★★★★

In 2023, the family life of Gemini people will be good. Arguing is also just a small matter, the two will soon forgive each other.
Health

★★★

If your health is not as expected, do not stress too much and solve it with a positive and optimistic mindset.
2. Gemini horoscope in 2023 in all aspects
2.1 About work situation - Studying in 2023
Gemini horoscope 2023 indicates that thanks to your hard work, your business in the new year will be quite favorable. The focus and new ideas applied to help your business grow.

The advice of the elders will work for you. Thanks to that, Gemini will receive a great financial achievement. Business owners can use this money to grow their company faster.

According to Gemini's 2023 horoscope, this year you get many opportunities with the help of colleagues. This will benefit you and promise success. Even when given tasks, Gemini can even complete them ahead of time.

Someone has to move away from home from the business area. Being too close to the workplace is sometimes inconvenient when it is difficult to separate rest and work every day.

This year Jupiter will appear in the first months of the year until April . During this period, you will experience some challenges in your career, but don't be afraid, just face it.
At work, your boss will be very impressed by your hard work and dedication. At this point, in the second half of the year, your boss is thinking about promoting you.
Job applicants, if you are employed, you can achieve success between April and September .
2.2 Financial situation - Money in 2023
Following up on the Gemini horoscope for 2022 , this year's placement of Saturn and Mercury is a sign that money will pour into your pocket in various ways.

In the new year, you must simultaneously learn how to save in addition to increasing multiple sources of income. It can be seen that a lot of money comes in, but there is also a lot going out for some reason that sounds reasonable. You will have to work harder to save the money you earn.
You may incur a variety of expenses for spiritual or religious work.

You can get good results in the months of July, October and November , and your income will improve during this time.
Even in October and November , you will receive unearned money from previous work. Chances of you facing financial problems are rare during these months. Along with that, the opportunity to advance and increase your income will also be made during the above period.
Job well done, appreciated by superiors. Your expenses are likely to increase during the months of June, August and December . During this time, you may find yourself spending money on material pleasures and buying expensive things.
Gemini horoscope 2023 shows that the new year will bring the desired results for those of the Gemini zodiac sign. Many people succeed in buying land, buying houses and buying cars.

However, if you try to do business, the investment will not benefit you compared to previous years. It is better to do a thorough investigation before any investment and only take the following steps after making a specific plan related to it.

If you are planning to invest be sure to consult someone with experience in the field. With that, you should stay away from disputes related to ancestral property.
2.3 About love in 2023
According to the 12 Zodiac Horoscope 2023 , communication and understanding with Gemini's mate can be improved. So you rarely face any relationship related problems.

Mars appears not good for the love of couples at the beginning of the year, easy to cause controversy, conflict is not good. But after that, your relationship is stronger. The two of you also know how to support making your family, parents, and friends happy too.
Either way, try to spend quality time with your spouse. For example, pick up your partner or enjoy a romantic dinner together or go on a trip together. Make sure you are interested in their hobbies and work.

Jupiter retrograde in March will positively affect the love life of single Gemini, possibly making you more likely to get married in the second half of the year.
From September to October , Gemini feels some disturbance in family life and you will make some decisions in bad faith at this time, which you will regret later.
2.4 About the health situation in 2023
Gemini Horoscope 2023, the health situation is not really as expected. You run the risk of facing some health problems continuously one day or another.

Lions must monitor their training every day. In your diet, you should prioritize healthy foods, lots of fruits and vegetables.

If you have any health-related problems, stay calm, don't stress too much. Optimism will help you get through these difficult situations.
Try to have a check-up every 3 months as it will help you feel comfortable and give you positive energy. You should try to practice yoga and meditation to keep yourself calm and healthy.

You may face some problems in the middle of the year but things get better at the end of the year. You will be satisfied with your health and a reasonable schedule will help you succeed in controlling your weight.
Any problems related to the stomach will be cured. With the change of planets in June , you have to be a little vigilant, you may face problems related to infections, especially liver infections.
If you move more because of work, bring food from home, if not, the food from outside should be less spicy. If you often drink alcohol, you should also quit, because it is a very negative habit for health, which can lead to dangerous diseases in the future, especially from July to September .
Gemini should exercise regularly or participate in some outdoor games. In early November , you may have problems related to cold, if you already have breathing problems, you should be extra vigilant.
3. Gemini horoscope monthly forecast for 2023
Below, the Horoscope of destiny offers astrological predictions for the entire 12 months in 2023 for Gemini. Hopefully this will be a guideline to help you take control of your life.
Gemini Horoscope January 2023 : During this month, you need to learn how to connect with people professionally.
Gemini February 2023 Horoscope Forecast : Your spirits have improved because you have spent a lot of time improving this aspect.
Gemini horoscope forecast for March 2023 : Continue to take calculated risks, and your life is better than you ever thought it would be.
Gemini Horoscope April 2023 : Career growth will be part of your priority this month. Everything is on track; Therefore, you should be proud of yourself.
Gemini Horoscope Forecast May 2023 : This is not a good month to invest, especially in the days when Mercury retrograde appears.
Gemini Horoscope June 2023 : Bring joy to your family by living responsibly. Spend more time with your loved ones.
Gemini horoscope forecast for July 2023 : Love will blossom between you and that person. In the end you will understand each other's roles and enjoy the company of each other.
Gemini horoscope forecast for August 2023 : It's never too late to start realizing your dreams. Trust that you have all it takes to make things happen.
Gemini Horoscope for September 2023 : This month you will have to learn to be patient with yourself. Do not rush. Let things be as they should be.
Gemini October 2023 Horoscope Forecast : Be proud of yourself for every achievement in your life, no matter how small.
Gemini Horoscope November 2023 : Be open to making changes that will positively affect your life and the lives of loved ones around you.
Gemini horoscope forecast for December 2023 : Singles finally meet their soul mate. After a long search, you will find someone who fills your heart.