The Empress Tarot Card Meaning - Love, Health and Money
If you are curious what The Empress card is and what they are reminding you of to help you navigate your life in the future, do not ignore the following article.
1. What is The Empress card?
The number 3 card in the Major Arcana, The Empress depicts a Queen sitting on a throne. She is surrounded by an enchanting green forest with a river flowing through.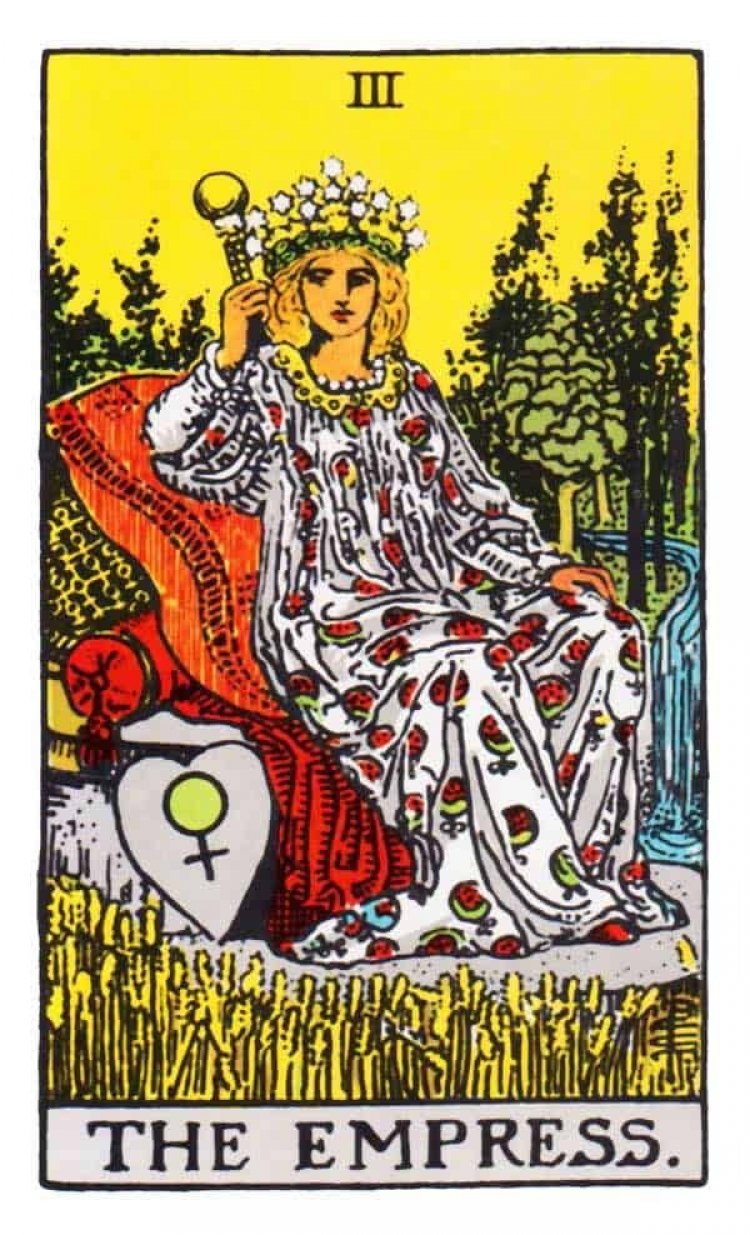 The blonde woman herself is crowned with stars, signaling her divine connection to the mystical world. She represents the archetype of Mother Earth, a goddess of fertility.
The Empress heralds the desire to touch the feminine side of each person, listening to intuition, emotions and passion. He is also a sign of abundance, The Empress brings abundance and blessings to whoever catches this card.

The Queen wears a pomegranate-patterned gown that symbolizes fertility, and she sits on cushions embroidered with the sign of Venus. Her world is ruled by Venus, which means there is complete love, harmony, fertility and luxury by the grace of this goddess.
2. The Empress card meaning
The Empress is also a strong sign of pregnancy and motherhood. You can look at the other cards that appear together to confirm whether this is a real pregnancy, or rather just a sign of a mother's caring, nurturing and caring attitude .

The Empress card can also mean the birth of a new idea, business or project in your life. Surrounded by good fortune, you can be sure that ongoing situations and projects will be successful.

Explore and bring out the ideas you've been harboring for a long time, making sure you give your all to fulfill them. This card is a sign that success is coming and is well taken care of. The archetypal Queen of Mother Earth, also encourages you to spend time interacting with mother nature.

See the general meaning of this card in the following table:

SUMMARY OF THE EMPLOYEES OF THE EMPRESS
Key word
Interpret keywords in action
Feed, take care

Raise a life
Care and look after
Embrace life
The fragility
Pampered

Prosperity, Tru Phu

Enjoy
Get a nice reward
Generous
Abundance

Sense

Focus on creating joy
Focus on the body
Appreciate the beauty
Good health

Nature

Have a connection with nature
Feel the connection with Mother Earth
Love to walk

Some opposing cards

The Magician card : Deep understanding, immutable.
The Emperor: Fatherhood, discipline, discipline.
The Death: Better understanding of the principle of death.
4 of Pentacles: Difficulty, hard work.
9 of Pentacles: Training, glory.

Some support cards

The Lovers: Full of happiness, contentment.
The Star: Love comes naturally.
9 of Cups: Feel with all senses.
7 of Pentacles: Has material rewards.
10 of Pentacles: Feelings of wealth and luxury.
2.1 Interpreting the meaning of The Empress card
The Empress signals that you should connect with beauty and benefit your soul. Be kind, take time to take care of yourself. Learn to understand yourself better, attract good things to life more fun.

The Empress shows that we are deeply attached to our inner femininity: fertility, creativity, and nurturing among many other aspects.

- Keywords: Abundance, femininity, achievement.
- Work :

The Empress card appearing in career shows that the opportunity for advancement is very high. You may be more creative and passionate than usual, and it's time to apply your ideas to real projects.

Since the Queen is involved with upbringing, it could also suggest that you are feeling especially cared for in your workplace.

This also means that your office environment is harmonious and friendly. What you do is also often supported by your colleagues. You are given the conditions and environment to do your best, helping you to be more motivated.

Sometimes, this card can also indicate another person in your workplace who has these qualities.
- Love
:
The Empress's love meaning in Tarot reading shows that you are a loving, nurturing and caring person, as well as having financial security or appreciating beautiful, comfortable things.

At times, The Empress can indicate that love emerges in partnership, co-worker or maybe a new partner.
When it comes to relationships, The Empress foretells a stable, serious and committed relationship. Because the card also represents motherhood, it sometimes also signals marriage or pregnancy, or at least a new family...
- Finance :

The Empress is both creative and material, so this card can indicate an abundant financial situation, comfortable shopping to satisfy your interests.

This time, you are very generous, you want to buy gifts for friends and family as a way to "show off". This is definitely the right time to share what you have.
- Health
:
The Empress is a very clear sign that you are pregnant. If you are trying to have a baby during this time, then this is a harbinger of a very high chance of success. On the other hand, if you are not planning to get pregnant then The Empress is a warning to be extra careful and take the proper precautions!

If pregnancy isn't a factor in your health, then The Empress is a sign that you need to take more care of yourself and listen to your body's signals. Track your energy levels, make time for relaxation and rest.
- Spirit
:
When The Empress appears in a spiritual context, it indicates that your intuition is telling you something and you need to take the time to listen to it. Your instincts are right and this is a good time to start or continue on a spiritual path as you will find it easier to connect with your higher power, thus making things more favorable.

The Empress points out that now is a good time to nurture your spiritual and creative gifts and don't forget to connect with Mother Earth.

2.2 Interpretation of The Empress reversed card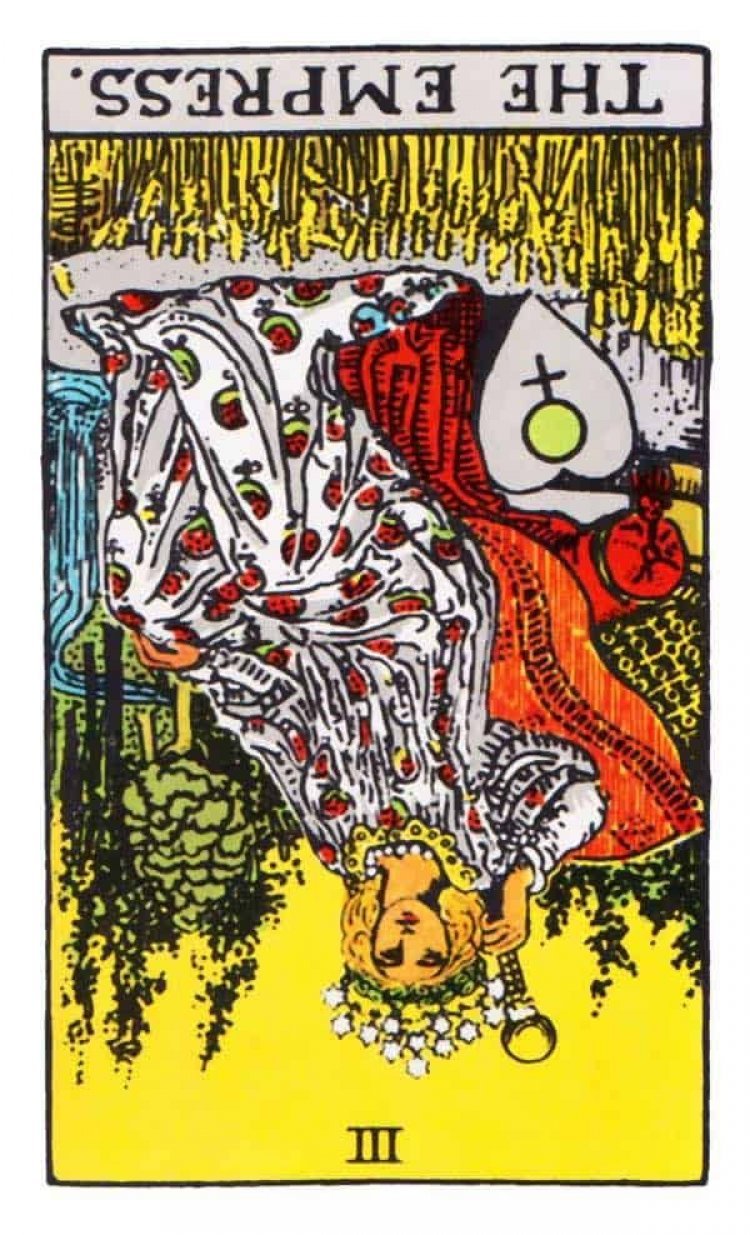 Drawing The Empress reversed shows that you have lost your own will and strength because you waste your time worrying too much about other people's problems. While it is the Queen's nature to care and take care of her loved ones, this can sometimes go too far.

At that time, you may be ignoring your own needs, or even overshadowing those you love with your intentional actions.
The reversed Empress appearing in your life means that you are relying on others to take care of yourself and even make decisions on behalf of others. You need to try to remove this influence from your life and build your own confidence. Always do your best to make sure you deal with the problem on your own.
- Keywords
: Dependency, insecurity, doubt, arrogance.
Work :

Your career may be feeling boring and unsatisfactory right now. You find yourself making very little progress, not developing any new skills.

The work is very monotonous and you are probably too familiar with this position for a long time. You may feel that others don't appreciate the work you're doing, which adds to the frustration.

Sometimes, this card can also indicate feelings of insecurity at work. You often encounter different problems. It is important to take the time to sort through what needs to be changed, such as changing jobs, improving self-confidence by learning communication skills.
-
Love
:
The meaning of Tarot The Empress reversed in love shows that you are feeling suffocated in the relationship. Your partner is controlling or you have difficulty expressing emotions.

The Empress tag can also signal that self-worth needs to be enhanced. No matter who is next to you, you still feel unworthy and have trouble maintaining that relationship.
If you are in love, the meaning of The Empress can be an encouragement to spend quality time and care for each other more. Treat yourself to a date at a restaurant or go for a walk holding hands. These moments will strengthen the connection between the two of you.
- Financial:

The Empress is always a great card when it comes to the financial aspect even when it is reversed.

The card signals a stable amount of revenue, improved income, comfortable spending. However, it can also imply that even though you have had enough, you still feel unstable.

Sometimes this can stem from the fact that you grew up poor. You may have to do some work on yourself to understand why this is the case and find a way to change it. Continue to maintain current revenue and you will find ways to stabilize later.
-
Health
:
The reversed Empress asks you to take care of your health effectively as you face your emotions. It turns out that emotional conflict is causing laziness, apathy, anorexia or bulimia.

You need to exercise and do activities that make you feel better about yourself. The Empress reversed in a health Tarot spread can also indicate fertility/pregnancy issues. It could be an unwanted pregnancy or difficulty getting pregnant, a miscarriage, a termination or problems conceiving that requires assistance.
Spirituality : The reversed Empress appears on the spiritual side indicating that you are disconnected from your intuition, which is affecting most other aspects of your life
.
You need to reconnect with your spirit, which is the missing link to get you out of your current slump. Look to spiritual people for inspiration and guidance. Listen to the wisdom of these people enlighten yourself.
3. What The Empress Means When Combining Some Characteristic Support Cards
Lovers and The Empress satisfy lust, contentment.
Star - The Empress: generous, free love blooms.
The Nice of Cups combined with The Empress shows that you are enjoying with your senses.
Seven of Pentacles - The Empress material rewards.
Ten of Pentacles with The Empress create affluence, luxury, material satisfaction.