Numerology 2023 by Birth Date
See Numerology 2023 by Birth Date - Numerology Basics helps people figure out what's holding for them using numerical calculation. Today you will learn how to understand arithmetic. Numerology is a simple calculation for your future predictions using your date of birth.
It's safe to say that many of us have experienced internal changes as the world adapts to new anomalies, and now is the time to get clear on those changes. As much as you think you know yourself, you've probably changed in ways you don't even realize; Sometimes, in order to handle change, we have to face it head-on, and that's what this year is all about. We have a collective opportunity to face ourselves and better understand the ways we've grown while we're just living our lives.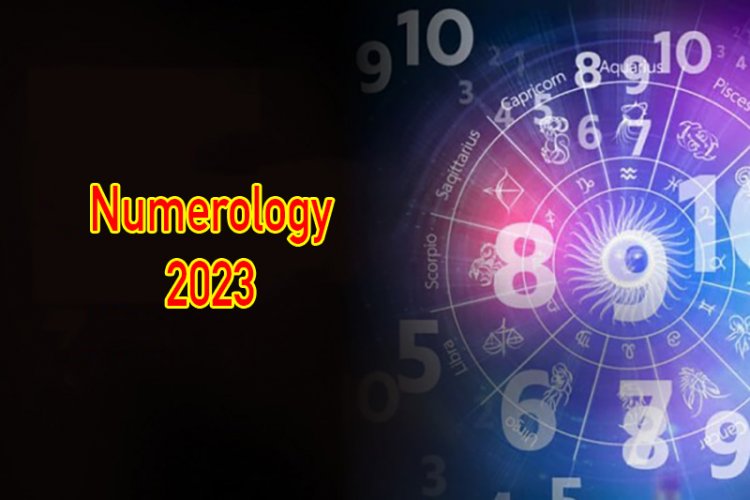 A new one that you are slowly forming when you don't even realize it. Now, it's time to fully integrate that existence and move forward with a stronger sense of awareness. This process won't happen overnight, but that's okay - the 7 energy isn't one of those energies to be rushed. Move slowly, dipping your toes in to test the water every step of the way, until you've completely immersed yourself in this sea of ​​new possibilities.
Goals for 2023
Prioritize self-care
It's time to nourish yourself with the time and care that you may have denied before. We live in a strange world, and no matter what the circumstances, it can be difficult to motivate ourselves constantly. This is a year to make sure you don't burn out. Keep your mental and emotional reserves safe.
Get more clarity
You will have a lot of great moments in 2023 as you get to know yourself better and why you behave the way you do. Focus on getting to the root of the problems and consider how these core issues have impacted your life so far. It's time to highlight your strengths and eliminate your weaknesses.
Let's admire the union
Building a connection between yourself and the natural world is very important this year. There is so much to be gained by harnessing the energy that pervades every way of life and seeing how we are all interconnected. No man is an island, and it's time we realized that more than ever.
Listen to your inner voice
Intuition is a key theme of year 7, and learning to trust yourself on a more instinctive level is an important part of this. Pay attention to monitor your gut more often, and if you're having trouble listening to it, then focus on getting more in touch with your instincts. They know what's right for you.
Your personal years in 2023
While the general year 7 will affect everyone throughout 2023, the influence you will feel most directly comes from your Personal Year number. Calculating your Personal Years is easy - just look at your birthday in 2023, then add each digit together. If you end up with a two-digit number as your sum, add those digits together until you make a single digit.
For example, if you were born on November 20, your birthday in 2023 will be November 20, 2023.
Create a math problem that adds each digit of that day 1 + 1 + 2 + 0 + 2 + 0 + 2 + 3 = 11.
Add again until you get a single digit: 1 + 1 = 2. So your personal Year number for 2023 will be 2.
Easy enough, right? Once you've calculated your Personal Years, read the description below to learn what 2023 can hold for you.
Personal year number 1: A fresh start
Many roads are opening up this year, showing you a way of life that is turning a new page or even opening a whole new book. In 2022, you've finished the final chapter of your nine-year cycle. This closure and clearance has freed up some space to fill with new fares in 2023.
2023 is all about starting in a new direction - and putting yourself first in the process. There's a rather selfish energy to this number, but it's actually a good thing this time around, because it will allow you to get really serious about pursuing what you want and what drives you. You're happy. You may have moments this year when you feel like you're on the verge of something big, but don't let yourself be discouraged by these adventures. You are starting a whole new nine-year cycle, one that will rebuild the previous cycle while remaining brand new and full of exciting prospects. You're this year's protagonist, so go after whatever you want - and maybe a few things you never knew you wanted.
Personal year number 2: The central relationship
2022 is a year that puts you front and center as you seek new sights to explore and new journeys to take. While you've learned a lot about your self-control and your ability to steer the chariot, 2023 is a year to take a step back and check in with others before you launch in any particular direction. how can.
During these twelve months, you will have the opportunity to strengthen bonds that may have been burned while you were too busy chasing your dreams last year. This is the time to be accountable to others. Make sure you're carrying your own weight and don't let others carry more than they can hold. If you feel lonely after your vibrations for 1 year, then you should place a higher value on not only cultivating existing relationships but also building new ones, add name your contacts. This is also a great year for finding love or amplifying the love you already feel, so if romance is something you have your eyes on in 2023, then you've likely unleashed the universe to go. find gold.
Personal year number 3: Time to create
It's time to open the window and breathe in the fresh air. 2022 is a year playing your part in relationships and being around other people, but there is quite a different vibration affecting you now as you enter your 3rd year in 2023. a year of discovery and creativity, a year in which you can go out, meet people and discover concepts you never dreamed of, all of which have the power to completely change reality. your daily economy.
Your most important task is to realize that if you are not attached to life, it will pass you by, and personal year number 3 asks you now more than ever to dive in and experience all of these things. what the world has to offer. This can bring about major changes in your social life, which may include moving or relocating which will create new situations for you. If you try to hide these changes or deny that they're happening, you'll feel left behind at the end of the year, like you've missed a package you've been waiting for because you didn't answer the door. When delivery person need you to sign for it. Open the door, sign your name and dive into whatever life throws your way.
Personal year number 4: Fasten your seat belt
This past year has been 3 years for you, it's all about embracing life and adding a little excitement to your existence. However, 2023 is 4 years, and this energy is so much more about you rolling up your sleeves and getting back to the basics. Now that you've connected with like-minded minds and bright faces, it's up to you to account for yourself.
Where did you give up taking responsibility for yourself? Have you allowed too much stuff through the cracks? The time for such behavior has passed, and during this twelve-month period you must step up and get ready to work. Without this effort, it will be hard for you to get what you feel you deserve - success will only come when you take the steps to actually make money. That doesn't mean the whole year is going to be a long uphill ride, but if you want to reach the finish line and the rewards that await there, you need to accept the fact that no one else can. friend. This is your journey, no one else's.
Personal Year 5 (2023): Your transformation awaits
Are you ready to get things started? Last year, you were tasked with a relatively unrelenting load of 4 years, requiring you to stick your nose in the whetstone and get serious about life. You may not have much room to sag or turn from the road ahead, but 2023 is your 5th year. This is the number of freedom and change. It's safe to say that things will change dramatically for you over the next twelve months.
Next year is all about tweaking and exploring the options available to you, and if you don't like what you're doing, it might be time to start and create some new possibilities for yourself. . Chances are your life will be markedly different by the end of 2023 than it was at the beginning. The main thing to remember is that it is wiser to embrace these changes than to try to prevent them, because the more you resist, the more complicated things will become for you. The universe is using these changes to get you where you want to go, so think of 2023 as a cosmic recalibration with lots of adventures to come.
Individual Year Number 6 (2023): There is no "me" in the "team"
Your life could change quite a bit in 2022. You have passed 5 years, bringing many changes your way. You may have found yourself in a new life situation, or may have started a new job that is different from what you did before, or there may have been a certain relationship that caused a rotation in the orbit. your. Now, however, the dust has settled. You can begin to understand your new reality on a deeper level during your 6 years.
The main theme of year 6 is relationships, relationships that may actually be frozen as you fly through 2022. All of these changes create new situations that have made it possible for you to awaken. new roots, strengthen relationships, and integrate yourself more fully into your life. It's a great moment to think about "us" rather than "me," because in the past year it's all been about focusing on your own needs. That is no longer the case. A new social group may develop around you at the beginning of the year and you will likely find yourself developing strong feelings for these people. It's time to establish your soul community, so make sure to circulate. There are people waiting to see you!
Personal Year Number 7 (2023): Looking Inside
You have spent 2022 getting closer to people as you live through the relationship-oriented energy of the 6th year, but there is a very different vibration calling you in the 7th energy of 2023. Number 7 is all about introspection and coming to better terms with yourself on a spiritual level. This may not sound like much and in fact may not be the case from the outside, but that doesn't mean you won't have key moments in 2023, they simply count. less obvious substance.
You are going through some personal changes as you adjust to your life, and it will take time for you to process some of them. That's what you're doing this year. There will be a lot of obvious things on the road in the coming months, lots of great moments as you begin to understand why you behave the way you do. These moments will help you summon new reserves of strength and courage, and that's also a good thing - you'll need a lot of things during your 8 years of history in 2024. For the year 2023, it's time to focus on being the best version of yourself you can be, working from the inside out.
Personal Year Number 8 (2023): Show your strength
It's time to assume the power was beyond your control over the past few years. In 2022, you have been going through 7 energies, which is a very spiritual and personal time, but not a time of much progress in the outside world. This can make you feel a little less productive. All that changes as you enter your 8th year, a year that sees you climbing new mountains and establishing yourself as a leader in new fields.
Whether you feel like you have very little autonomy in your life or like you have won over success and success, there are new opportunities to become a stronger version of yourself, someone who has achieve meaningful success and earn respect for it. This isn't the time to play with flowers, so if that's your usual comfort zone, be prepared for the fact that life will likely call you to center stage, where everyone has fun. can see what you're doing. The only way you can fail to meet the requirements of 8 years is if you avoid using the power the universe wishes to bestow on you. It's time to show everyone what you can do.
Personal Year Number 9 (2023): Binding loose ends
The year 2023 marks an important closing period for you, as it is the final year of your 9-year cycle, indicating the moment when you shut down the elements of your life that are no longer serving you. In many ways, this year can feel like you've drifted out to sea and there's no wind at the sails to propel you forward, but that's exactly what year 9 offers - a peaceful time when you can look back at everything you've accomplished in the past nine years. This is a transition period that will take you into the next cycle as you begin a new year in 2024.
You're being picky, but that doesn't mean you should fall asleep at the wheel. Actively accept letting go and bringing the matter to an end. Relationships may end when certain people leave your life, or perhaps there are beliefs you've held for a long time that you need to let go of. It's time to detox, to clear your plate so you can stock up on new things for it next year, but if you try to chase new opportunities too soon, you'll find them continuing. avoid you. Allow the tide to pull you out now. In the end, it will put you exactly where you want it to be.