Scorpio Horoscope 2023: Love, Health and Money
Scorpio horoscope 2023 shows that there are times when things are so difficult that you want to give up, the advice is to believe in yourself and your own abilities.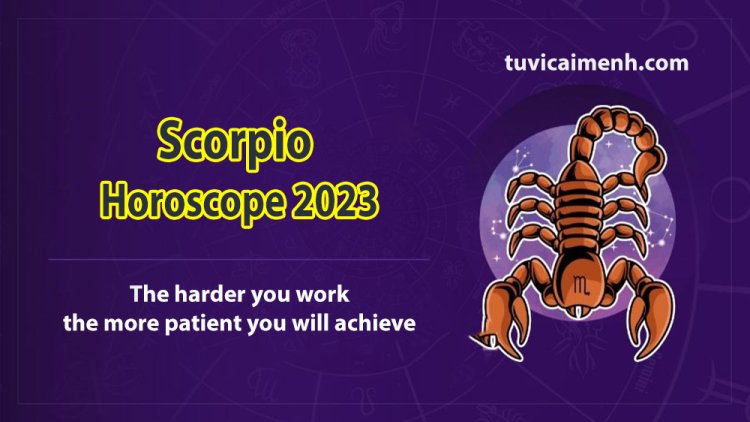 1. Scorpio horoscope overview in 2023
Scorpio horoscope 2023 indicates that this is a very important year for Scorpio people in many ways. You are the one who molds and creates your life's destiny, so let's create what is as beautiful and brilliant as possible.

In 2023, don't let anyone control you. Make sure you always check everything with caution, this way you will save yourself a lot of hurt and disappointment. There are signs that you can get a lot of desirable results in the new year.

Even from the family point of view, at first there were mixed opinions, but now you also receive the cooperation and support of the elders in the house.

The love life of those in love will be filled with romantic feelings this year. Married life is also very desirable for couples.
The beginning of the year will be tough but it will be short, most of the time it will be up to you to decide how things go, everything is in your hands and seems to work in your favor. .

The more you put effort into something, the better the results you will get, and if possible, this year should be the time for you to break any self-limitations you've ever put in place.
However, there are times when things will be so difficult that you want to give up. Always be strong and believe that you can face any situation that comes up.
You will enjoy a good year, but you need to be careful with your decisions and choices. Rushing is not good, you will have to slow down some things in life.

Be patient, and you will soon enjoy the fruits of your labor. Continuing on the right path, you will understand your divine life purpose and work towards achieving the same.
Overview of the Scorpio Horoscope for the year 2023
Aspects of 2023
Evaluate
Highlights
Work, study

★★★★

If you used to work very hard, you now have the opportunity to advance in your career, but if you do not continue to work hard, you will still fail as usual.
Money, financial management

★★★★ ★

Making money more favorable in the new year, but even though the money is pouring more every month, do not forget to save.
Love, love

★★★★ ★

Happy couples, experiencing romantic moments in life together.
Health

★★★

When driving, you must be careful, not subjective. Remember to take good care of your family's health.
2. Scorpio horoscope details in 2023 in all aspects
2.1 About work situation - Studying in 2023
According to Scorpio 's 2023 horoscope , your business is quite favorable. During this time there will be strong momentum in trading.

You have many opportunities to move forward, appreciated for your ability and hard work. You are not afraid to find new markets abroad. If you know how to take advantage of the opportunity, you have the ability to make great strides, helping your business take off.

If you have been thinking of starting a business, now is the best time to do it. You are being created to have the life you want. However, you can only achieve it if you dare to take the first steps. Also, make sure you understand the risks involved in starting a business.

At work, Scorpio can get help from colleagues wherever you need it in the office. Be careful that no one is disappointed because they believed in you.

You will see some changes in the workplace. Scorpios who are working in a multinational company are most likely to succeed.
Hardworking, diligent Scorpios who have tried their best in previous years have a chance to advance in their career, but if they don't continue to work hard, they will still fail as usual.

The advice for Scorpio is to stay committed and make sure you do other side jobs to improve your career prospects. If necessary, take short courses to fill in your gaps.

The Rahu planet transition can bring you many kinds of mental problems. Trying to be positive in your thinking will be better for you in this situation.

No matter what, you have to keep in shape, always show hard work and diligence. Only then will you find success in your endeavors. This time is in your favor, giving you rewards for the effort you put in.
2.2 Financial situation - Money in 2023
Following the Scorpio Horoscope for 2022 , this year shows that at the beginning of the year Scorpio's expenses will increase.

You are at a disadvantage because from January to April there will be expenses that are not in the plan. Moreover, to relieve mental problems you tend to shop more and seem to be out of control.

The following months, the transit of Mercury brings you some positivity in your financial life. Your fortune will improve, remember to seize these opportunities quickly.

You will also be able to earn money through different means. If you've lent money to someone before, it's easier to get it back now.

You are also likely to benefit financially from your other half. He transfers you a significant amount of money, making you feel more secure for the future of both of you.
You will enjoy a favorable period in the second half of the year. If you want something, you can easily buy it because you enjoy financial abundance.

Even if money is pouring in more each month, don't forget to save it for "rainy days" and if you have extra money, think about investing it as soon as possible.
2.3 About love in 2023
According to the 12 Zodiac Horoscope 2023 , this time is bringing good development to those in love. The two of you will have more opportunities and favorable conditions to understand each other in this 2023.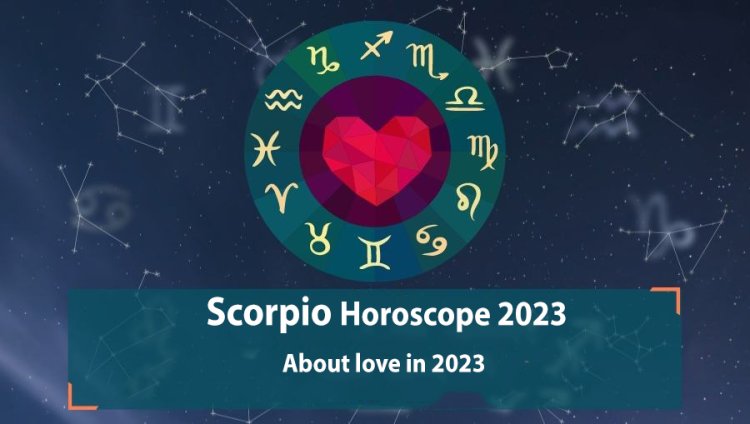 You should be cautious in the early part of the year. There will be disagreements with the person you love, but both will have the necessary time to re-evaluate their trust in each other whether to continue this relationship or not.
The beginning of the year is not very good for couples. The two are prone to getting into trouble due to the unstable family atmosphere. The influence of Saturn will cause the two of you to quarrel over petty issues. There are even couples who feel that there is no possibility of saving anymore.
Even if you've tried all sorts of different ways to make things better without success, it's time to accept that your marriage is likely to fail.
To create a strong bond with your other half, you should focus your attention on that person more. Taking care of each other is how you can make your love life interesting.

Venus is supporting and encouraging singles to express their feelings to their crush. However, singles will not have much luck this year. Take this time to get to know yourself better.

On the contrary, if couples listen to each other better, now you will be able to get rid of all the misunderstandings and arguments that happened in the past. At this time, Mars supports to increase trust and affection between two people. Think twice before planning to have a baby.
In the fourth quarter , the situation will improve slightly. You will get your mother's collaboration. She gives useful tips to help you behave more rationally. You should resolve any disputes and not forget to show mutual trust.
Your marriage will have a direct impact on your personal life a lot. September to the end of the year will be the best time for you.
The period from September to November will be very good for those who are looking for true love in their life.
2.4 About the health situation in 2023
According to Scorpio's 2023 horoscope, you will receive mixed results regarding health this year. The changes in the positions of Saturn and Jupiter during this time will benefit your health.

The transit of Jupiter will help you get rid of the serious, chronic illnesses you are suffering from. You will see a positive change in your health. If you have a long-term illness, you can recover.

In addition to improving health, this period you can also relieve many problems related to the stomach.

This year, you should also take care of your mother's health. The truth is that maternal health problems can also increase your own emotional stress.

At the end of the year, if you drive a car, you should be careful, otherwise you may be the victim of an accident, causing bodily injury.
For good health, you need to follow a strict diet and exercise plan. Don't just eat haphazardly and expect your body to correct itself.

The right foods and drinks will strengthen the immune system. With a good immune system, your body is able to fight any disease on its own.
3. Scorpio monthly horoscope forecast for 2023
Below, the Good Days Calendar offers astrological predictions for the entire 12 months in 2023 for Scorpio. Hopefully this will be a guideline to help you take control of your life.
Scorpio Horoscope Forecast January 2023 : This month you will have to be patient with yourself. You've done your part, and now it's time to wait for the results.
Scorpio February 2023 Horoscope Forecast : You are surrounded by the right kind of energy that will allow you to approach life with a positive attitude.
Scorpio horoscope for March 2023 : Increase work efficiency, don't waste your energy and time on things that do not guarantee success.
Scorpio April 2023 Horoscope Forecast : Finances will improve this month as your investments will eventually yield great returns.
Scorpio Horoscope May 2023 : It's never too late to repair relationships with your loved ones. You need them to bring positive spiritual value to you.
Scorpio horoscope forecast for June 2023 : Do not shirk your responsibilities and obligations. Be someone people can rely on when times are tough.
Scorpio horoscope prediction for July 2023 : If you want great things in your life, you should actively embrace it.
Scorpio horoscope forecast for August 2023 : Luck will manifest in most aspects of your life. You should be proud of what you have.
Scorpio horoscope for September 2023 : A feeling of peace and harmony will persist in your family life.
Scorpio October 2023 Horoscope Forecast : During this month, you will have to pay attention to the overall condition. You need to be in good health to work effectively.
Scorpio Horoscope November 2023 : Social life will improve as you are willing to get out of your comfort zone and meet new people.
Scorpio horoscope forecast for December 2023 : Celebrate your achievements. Also, work on your weaknesses so as not to hinder your growth.
Above is all information about Scorpio Horoscope 2023 (or Scorpio Horoscope 2023). Hope this information is useful to you, helping you to take control of your life in the coming year!